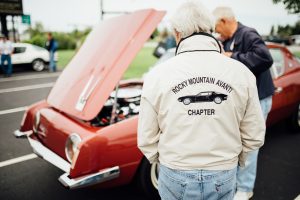 AOAI CHAPTER DIRECTORY
Want to find an amazing group of people near you? We have eighteen local chapters in three different countries that holds its own series of events throughout the year. Scheduled events can be viewed by clicking on a chapters website below.
Don't see a chapter in your area? Let the AOAI assist you in forming a new local chapter. Select the 'Contact Us' above for more information.
---
---
---
---
---
Arizona / Arizona AOAI

Mike Borens, President

Phone:

520-303-1820

Email:

---

Canadian / Canada Chapter of AOAI

Steve Wohleber, President

Phone:

705-383-2432

Website:

Email:

---

California / Northern California AOAI

Jeff Grohs, President

Phone: 925-672-4059

Email:

jeffgrohs@pacbell.net

---

California / Southern California AOAI

Ken Buchanan, President

Phone: 818-406-2361

Email:

spokejr@sbcglobal.net

---

Colorado / Rocky Mountain AOAI

Wayne Perna, President

Phone:

303-423-9236

Website:

https://avanti6307.wordpress.com/

Email:

---

Connecticut / Sherwood Chapter AOAI

Mike Durso, President

Phone:

203-929- 8655

Email:

---

Florida / John Ebstein AOAI

Tom Pinnel, President

Phone:

407-787- 4572

Website:

https://www.floridaavanti.com/

Email:

---

Illinois / Chicagoland AOAI

Rick Shafer, President

Phone:

630-272- 6850

Website:

https://www.facebook.com/avanti.chicagoland

Email:

---

Indiana / Indiana Chapter of AOAI

Ted Andrews, President

Phone:

317-733- 8724

Website:

Email:

---

Kansas / Heartland

Alan Olas, President

Phone:

660-747- 2285

Website:

Email:

---

Massachusetts / Northeast AOAI

Bill Waterhouse, President

Phone:

508-244- 9488

Email:

---

Missouri / Gateway Chapter of AOAI

Dennis Lang, President

Phone:

636-980- 9996

Email:

---

New York / Long Island AOAI

Frank Antoniello, President

Phone:

631-864- 7623

Email:

---

Pennsylvania / Raymond Loewy Chapter

Kevin O'Neill, President

Phone:

610-268- 5252

Email:

---

Pennsylvania / Mid-America Penn-Ohio

Mike Nicolella, President

Phone:

412-851- 0848

Email:

---

Switzerland / Avanti Club of Switzerland

Alfred Vacano, President

Phone:

001-41- 71-463- 52-14

Website: http://avanti-owners.ch

English website: http://avanti-owners.ch/english/

Email:

---

Texas / Avanti Third Coast Chapter

David Boratyn, President

Phone:

281-389-3644

Email:

davidenterprises2000@yahoo.com

---

Washington / Club Avanti Northwest

Lou Cote', President

Phone:

425-322- 6592

Email:

---

Wisconsin / The Wisconsin Chapter

Bill Kuespert, President

Phone:

920-921- 6169

Email:

---
[wp_ad_camp_1]