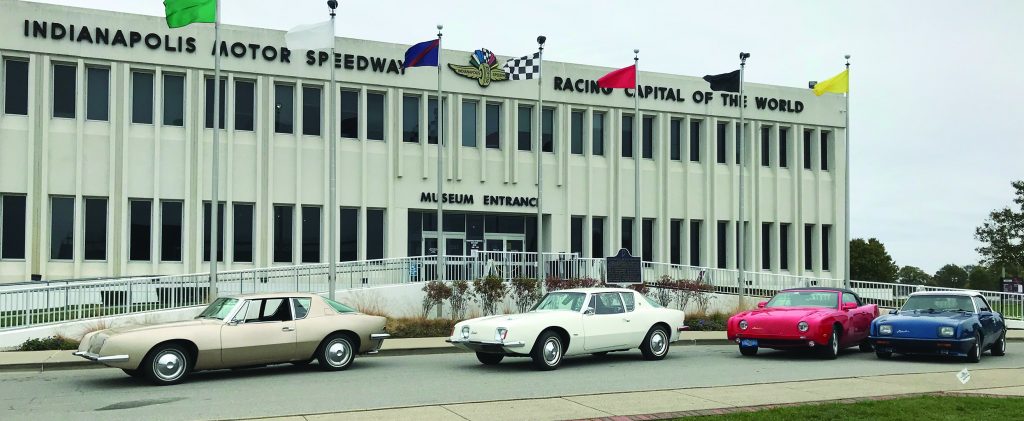 Pack your bags and fill up the gas tank on your Avanti! The AOAI 2021 Indianapolis Meet, September 7-11 in the Indianapolis suburb of Fishers, Indiana, is moving full speed ahead…pedal to the fiberglass with the supercharger roaring. The three amigos—Mike Baker, Max Starkey, and Ted Andrews—from the AOAI Indiana Chapter, have been working closely to implement a successful meet for you to enjoy next year in Indianapolis. We were disappointed the St. Louis meet got canceled; however, we understand the circumstances with COVID-19.
To simplify the AOAI meet registration process for the AOAI 2021 Indianapolis Meet, the single price per person covers the AOAI registration, AOAI welcome reception and BBQ dinner, Avanti tech and judging seminars, AOAI 100-point judging or display and the AOAI awards dinner. The price is $95 for each person attending this meet if you register by December 31, 2020. Afterwards, it will be $119 per person. Children 12 and under are free.
Register by December 31, 2020, for a chance to win a free hotel night at the AOAI host hotel – Hyatt Place or Hyatt House Indianapolis Fishers, Indiana. You must reserve your room for four nights at the Hyatt Place/Hyatt House Indianapolis in Fishers and register for the AOAI 2021 Indianapolis Meet to get a chance to win. The drawing will be held during the AOA Indiana Chapter officer's meeting on January 10, 2021. The winner will be notified by phone or email and results published in Avanti Magazine.
BONUS: If you register for the AOAI 2021 Indianapolis Meet by December 31, 2020, and you are an AOAI member in good standing, the AOA Indiana Chapter will give you a one-year complimentary membership to the AOA Indiana Chapter. We will mail you a complimentary AOAI 2021 Avanti calendar too.
Register for the 2021 AOAI Indiana Meet Online Here
AOAI 2021 Tentative Meet Schedule
(If you wish to have your 1963 or 1964 Studebaker Avanti judged for authenticity certification, email board member Al Basile.)
The AOAI Indiana chapter has signed the contract with the beautiful, newly constructed Hyatt Place and Hyatt House Indianapolis Fishers, Indiana. This hotel opened in December 2019 and we negotiated an amazing $99 room rate plus taxes with complimentary hot breakfast.
The Hyatt Place rooms are mostly standard hotel rooms, while Hyatt House are extended stay accommodations and pet friendly.
This special AOAI hotel group meet rate expires July 7, 2021 and is available two days before and after our event so you can spend a couple extra days in Indianapolis if you wish. Please book your room reservation and register for the meet now!
There is plenty of parking for your Avantis and local retailers like IKEA for everyone to enjoy. Top Golf is nearby along with dozens of new restaurants and shops in walking distance from the hotel. Patti Goesch, AOAI Indiana Chapter member, is arranging a ladies activity with more details to published in future issues of Avanti Magazine. Those who stay at the AOAI meet hotel, the Hyatt Place or the Hyatt House Indianapolis Fishers will receive two drink coupons (beer or wine) per AOAI guest staying in the hotel group block upon checking into the hotel for our AOAI social on Wednesday evening.
If you have pets, you can reserve a room at the Hyatt House. The pet fee is $75 for six days or less.
You can reserve your room using the links below or call 1 (888) 591-1234:
AOAI Hyatt House Hotel: https://bit.ly/AOAIhyatthouse
AOAI Hyatt Place Hotel: https://bit.ly/AOAIhyattplace

Hyatt Place/Hyatt House Indianapolis Fishers
11455 IKEA Way,
Fishers, IN 46037
(317) 516-4988