Our original block of rooms at the Marriott University Center is almost officially sold out. The guaranteed base rate of $119.00 and two complementary breakfasts daily are only available to our group in a block of rooms specifically set aside. We are arranging for additional rooms but the supply is tight and it is highly recommended you reserve your room at the meet hotel as soon as possible or you may miss out. The normal room rate is $254.00 a day. So don't delay.
There may be a slight change to our schedule on Tuesday. The driving tour to the Halderman Barn Museum may move from the morning to afternoon with early registration on Tuesday shifting to the morning from the afternoon. Stay Tuned.
We have been approached by vendors wishing to display and hopefully sell their wares to Avanti owners. We are working diligently to make vendor space available at the hotel or at a nearby location. Bring your shopping list in case we can make this happen.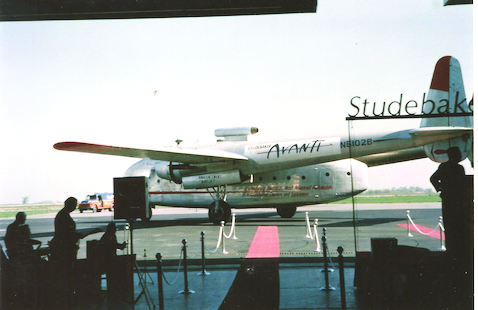 Registrations are starting to flow in and it looks as if this will be a highly attended get together. Unfortunately the larger the group the harder it is to make accommodations where there may be restrictions such as the banquet or group sizes. Please register for the meet and make your hotel reservations as soon as possible. Registration form on the facing page or at the AOAI.org website.
We are thrilled to offer the Dayton area for our International. It is one of the prime locations in the country for aviation history buffs and history buffs in general. The Marriott is a world class hotel with all the amenities you could ever need and is welcoming us with open arms.
Dayton the place to be seen in 2019.
Historial Note:
Studebakers Operation Airlift, introducing the new Avanti, to its Zone dealers set down in Dayton Ohio on May 8, 1962. A C82-A Packet plane was used to transport the two Avantis to Dayton for the Cincinnati Zone dealers and guests.. The National Air Force Museum in Dayton has an example of this plane as well as the Loewy designed Air Force One used by President John F. Kennedy.
Avanti will arrive in Dayton again in September 2019.
Questions:
Hull-O Ventures: John Hull
Email: avantifromct@aol.com